Aurora Trinity Collective
Aurora Trinity Collective is an artist led group committed to creating a culture of inclusivity and creativity, who value the importance of kindness and care.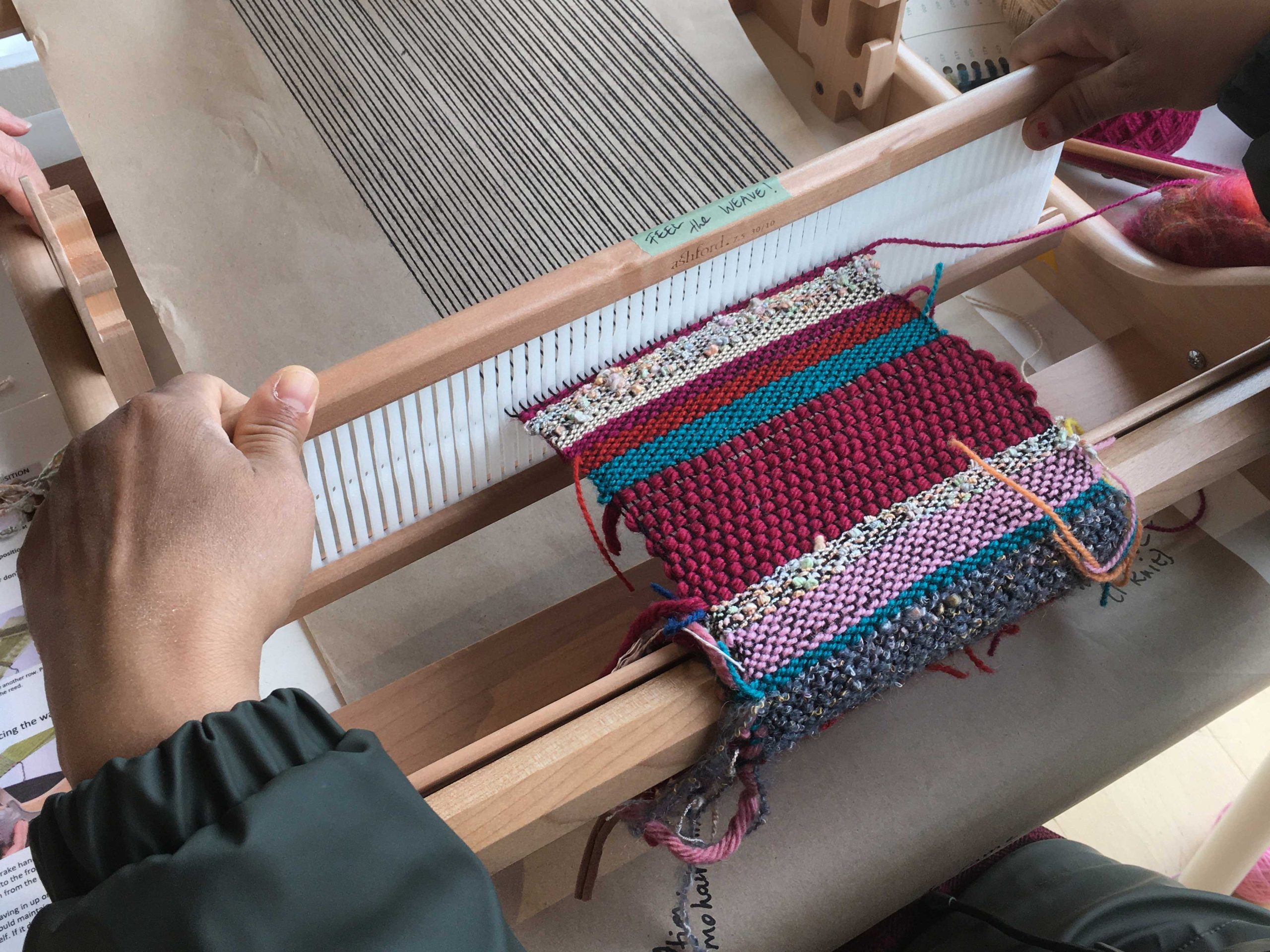 Credit: Aurora Trinity Collective - Weaving workshop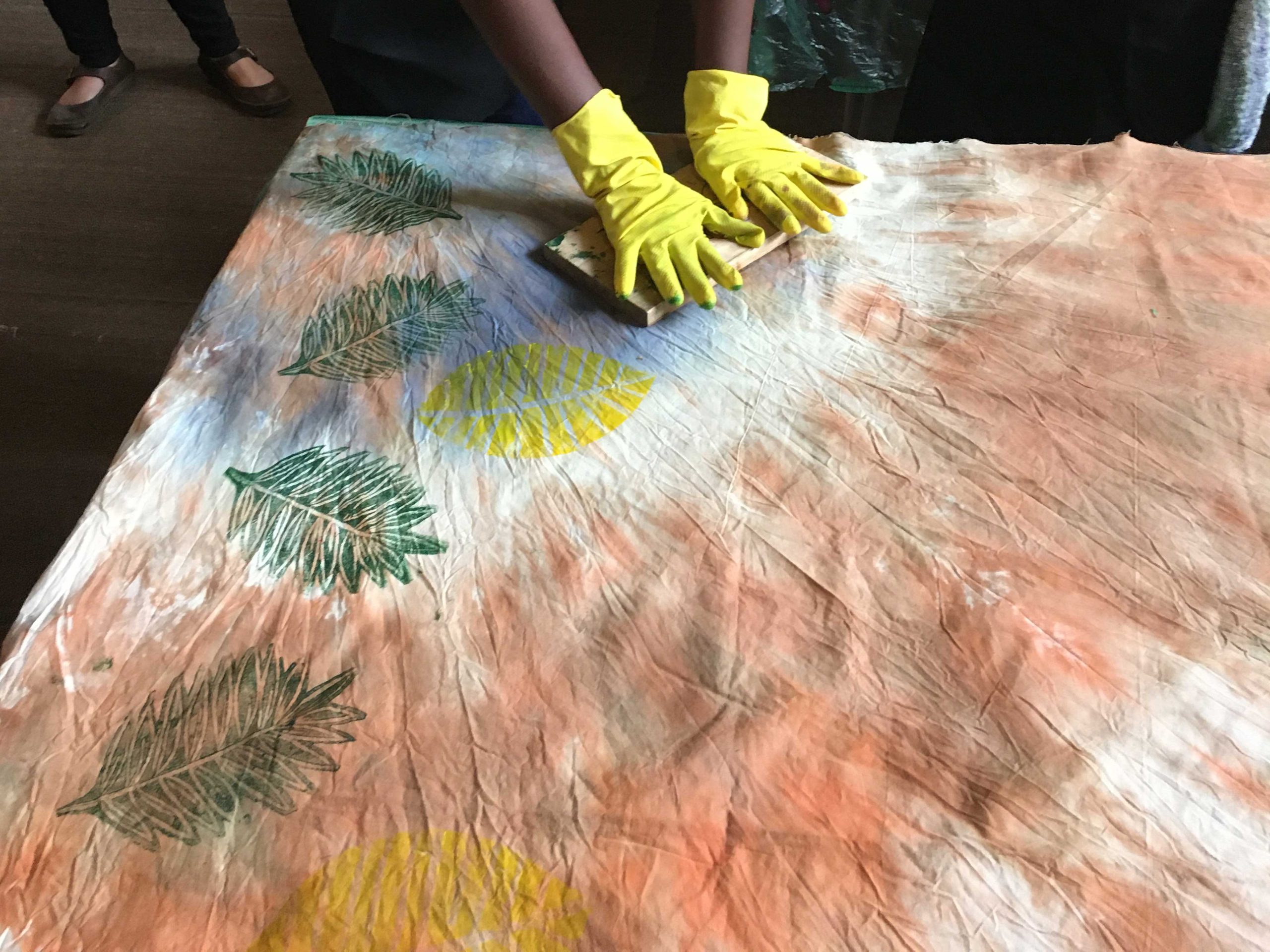 Credit: Aurora Trinity Collective - Printing
They work together to share textile and art-based practice and skills in a safe and positive space. The collective is an ever evolving and changing group of incredible women who share their cultures, ideas and stories with one another. They began their work and remain an important part of the Trinity Centre in Cardiff.
Artes Mundi and Aurora Trinity Collective began working together in 2018 alongside Artes Mundi 8.
In the spring of 2020, the co-creative work between Aurora Trinity Collective Members and Artes Mundi began to evolve and explore ways to embed care and share decision making in their relationship. They met for regular online sessions and discussions. Throughout the year their conversations began to look at ways in which Artes Mundi could provide both practical and creative support to the collective as a whole and to them as individual members.
The collective decides on the skills they share with one another, which means no two days are ever the same. Their work is always necessary and connected to their own lived experiences. One week they are making protective face masks for themselves and their families, and the next they are sharing recipes they love and cook them together. Sometimes they are learning how to sew, crochet or knit and sometimes they are learning how to do face massages as an act of self care.
The Aurora Phenomenon
In Year One of the project, working in partnership, Aurora Trinity Collective and Founding Artist Helen Clifford, Artes Mundi and the Trinity Centre have;
Delivered 47 Friday workshops at the Trinity Centre. Activities included: Dance and Movement, Creative Writing, Sewing, Knitting, Appliqué, Collage, Screen Printing, Painting, Ceramics
Achieved a total attendance at these sessions of 967
Worked with 181 individuals, with 98 people aged 18-64 and 83 people aged 0-17
10 Members of the collective led weekly Friday workshops
Members of the ATC completed four research trips, including 'In the Black Fantastic' at the Hayward Gallery in London, British Art Show 9 in Manchester, 'Lost in Lace' at the Culture Trust in Luton, and the Co-Creating Change Festival at Battersea Arts Centre in London
Five members of the ATC completed Trauma Awareness Training and one member has had peer-mentoring with artist Muneera Pilgrim
35 people (17 ATC Members and 18 children) attended a three-day Creative Retreat to Manorbier in Pembrokeshire
"It was such a beautiful weekend, we feel very blessed to have been there in your company. What we take away are the beautiful memories, the conversations, the singing, the smiles and the laughter." Nasima Begum, Aurora Trinity Collective steering group member speaking about the Creative Retreat to Manorbier in February 2023
"Thank you for Aurora, thank you for everyone, I like this very much and also my child, he's very excited, it will be forever in my mind. Thank you for all Aurora" ATC member speaking about the Creative Retreat to Manorbier in February 2022.
"I liked how everyone worked together, the way people worked together, everyone was working nicely." ATC Member speaking about the summer 2022 workshop series.
"My favourite moment with Aurora was 2022 summer event, starting with tie dye, block printing, screen printing and seeing all kids do their project. Seeing the outcome of summer project makes me more excited." ATC Member

---
Please click images to enlarge
Universes
Over the summer, we spent lots of time with our friends at the Welsh Refugee Council's playgroup, as part of the Aurora Phenomenon Project run in partnership with Aurora Trinity Collective and Founding Artist Helen Clifford, The Trinity Centre, and Artes Mundi.
Together we created a new short film with the young artists who spent their summer with us all.
Making this film was about experimenting, learning, sharing ideas, and joy.
The Longest Pipe Cleaner: 29 metres and 7 centimetres
This film, The Longest Pipe Cleaner: 29 metres and 7 centimetres was made during a workshop by Abdurrahman, Kazim, Mohammad, Saeed Wedaal and Salahuddeen. The artists got together to make this during a Collage workshop which was led by Nasima Begum.
This spontaneous act of collaborative art-making took place as part of the Aurora Phenomenon project.