Lates: PITCH BLACK
Omikemi: Dreaming Bodies
Thursday 20 May 2021
7:00pm BST
Online

£6.60
15% discount if buying tickets for all 4
LATES: Pitch Black events

Suitability: 16+

Click here to book now
National Museum Cardiff and Artes Mundi are excited to announce Lates: PITCH BLACK, an online festival of events that will celebrate Blackness as boundless and infinite.
The series inclused multi-artform commissions that interrogate the impact that the British Empire and culture has had on Black people and their history, whilst exploring new ways to dream collectively.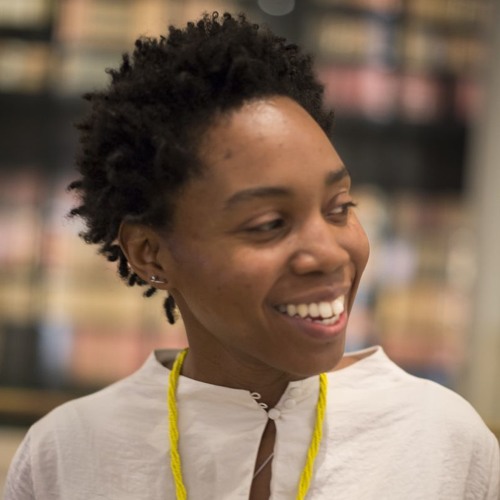 Credit: Omikemi an African Carribean heritage person with short hair, speaking into a microphone, wearing a white tunic with a yellow beaded necklace
Dreaming Bodies is a collaboratively produced audio-visual artwork. The work has been developed out of a care focused somatic inquiry for Black, LGBTQIA+ disabled folx. The inquiry sessions engaged museum materials and embodied activities such as life drawing, body poetry and movement meditation practices to explore, the futures we wish to create and to speculate about practices that would make our lives more sustainable and joyful. It is an artwork that engages the ideas of the mystical-activism, auto-immunity and body supremacy in the pursuit of increased agency and exploring possibilities for care and communities.
Running Order:
7.00pm – Dreaming Bodies by Omikemi
7.30pm – LIVE: Q&A with Omikemi
8.15pm – Break
8.30pm – Carrie Mae Weems – Artes Mundi Audio Experience
9.00pm – Black Art and Artefacts – a tour (part 3)
9.15pm – Break
9.30pm – DJ Set
Times are approximate – a full running order will be shared with ticketholders a few days prior to the event.
Omikemi is a writer, facilitator, healing arts practitioner and community organizer. Their work is focused on creativity for health and healing and they have a growing interest in mystic-activism. Their recent collaborations include work with Vital Xposure, Disability Arts Online and Autograph Gallery London. Omikemi also organizes Way-Making an online Black-centered creative and healing arts space.
Lates: PITCH BLACK presents events that will be running every Thursday evening throughout May 2021 and will include bold new work created by our PITCH BLACK artists; Gabin Kongolo, June Campbell-Davies, Omikemi and Yvonne Connikie – commissioned by National Museum Cardiff and Artes Mundi. Alongside these commissions, Lates: PITCH BLACK will present film screenings, DJ sets, exclusive Black History tours of the National Museum of Wales Collections and extras from the Artes Mundi 9 exhibition.