Dineo Seshee Bopape
Dineo Seshee Bopape's expansive practice deals with socio-political notions of memory (from the personal to the collective, the known and unknown), narration and representation as interrelated forms. Her work often utilises a diverse range of commonplace, elemental materials such as soil, bricks, timber, with found objects and archival images, video and sound, to develop dense and powerful installations. These draw together the celestial and the earthly, the bodily and the metaphysical, the personal and collective. For example, in her work for the Berlin Biennale in 2018, an orange light bathed a basement room filled with scattered objects seemingly like debris, alongside videos including those of sexual violence perpetuated against black women and footage of Nina Simone's mental breakdown on stage. It created a tense, potent, almost hallucinogenic atmosphere of discomfort and disquiet.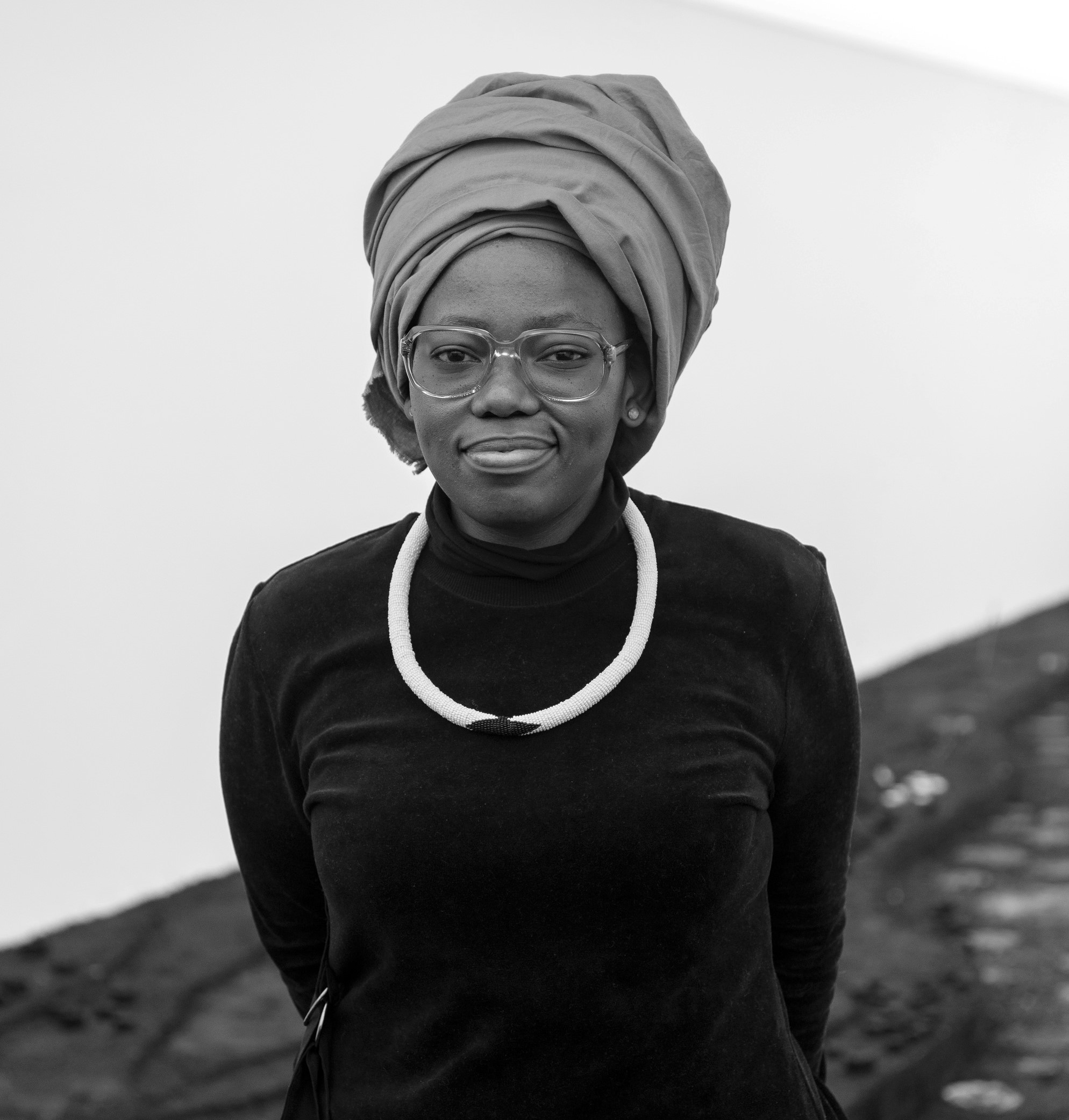 Credit: Dineo Seshee Bopape. Photo: Maksym Biousov
Artes Mundi 9 Exhibition
Bopape has produced a series of new, immersive works for Artes Mundi 9 whose installation materially and conceptually connects African and US locations such as Achimota Forest, Accra, Ghana, James River, Richmond, Virginia and the Mississippi River at New Orleans. Clay and soil from these places joins with that from the Île de Gorée off the Senegal coast at Dakar—infamous as a departure point from Africa for the Atlantic slave trade—to create Master Harmoniser, a collection of over 1,000 drawings. Furthermore, this series of connections is extended to encompass local histories and place, with the installation rooms of (Nder brick) ___ in process (Harmonic Conversions) and Gorree (song): Thobela: harmonic conversions having walls washed in soil from a Welsh sacred site and the confluence of the Rivers Severn and Avon respectively.
Extending across the large central space at Chapter, Master Harmoniser sees collections of unframed drawings arranged in incomplete grids, seven distinct wall spaces containing drawings all made from one material gathered from one location. Atop this is introduced a secondary grid structure in twine which activates the space as a whole to redefine particular groupings. As a formal device this suggests episodes within the larger narrative while also evoking diagrammatic marking seen in maps or the means we use to orientate and navigate time, space and histories.
This work combines with (Nder brick) ___ in process (Harmonic Conversions) to act as an homage to the sacrifice that Nder women in North Senegal underwent in November 1819, when all the women immolated themselves because they didn't .want to be taken as slaves. Alongside this work but also presented at both the National Museum Cardiff and Chapter, Gorree (song): Thobela: harmonic conversions is a sound work that is part lament, part evocation, part acknowledgement of ancestors. Linking place, histories and reaching across time through material and conceptual means, as a whole these works draw together the celestial and the earthly, the bodily and the metaphysical, the personal and collective, into a space of acknowledgement and healing, to create a potent atmosphere that questions that which becomes forgotten and what should be remembered.
---
Image Gallery
Please click images to enlarge
Biography
Dineo Seshee Bopape was born in 1981, on a Sunday.
If she were Ghanaian, her name would be  akosua/akos for short. During the same year of her birth, there were perhaps 22 recorded Atlantic Ocean hurricanes. the Brixton riots took place; the song "endless love" is popular on the airwaves; two people were injured when a bomb exploded in a Durban shopping center; Bobby Sands dies; MTV is launched; the Boeing 767 makes its first airflight; Umkonto We Sizwe performs numerous underground assaults against the apartheid state. There was an earthquake that killed maybe 150 people in China; an International NGO Conference on Indigenous Populations and the Land is held in Geneva, The name 'internet' is mentioned for the first time; Hosni Mubarack was elected president of Egypt; there is a coup d'etat in Ghana; Princess Diana of Britain marries Charles; Bob Marley dies; apartheid SA invades Angola; AIDS is identified/ created/named; Salman Rushdie releases his book "Midnight's Children"; the remains of the Titanic are found; Muhammad Ali retires; Winnie Mandela's banishment orders are renewed for another 5 years; the first test tube baby is born, Thomas Sanakara rides a bike to his first cabinet meeting; Machu Pichu is declared a heritage site; her paternal grandmother dies affected by dementia; that very year millions of people cried tears (of all sorts), spoke words in many languages and billions of people dreamt…. some things continued, some things transformed, others ended(?), The world's human population was then apparently at around 4.529 billion… today she (Bopape) is one amongst 7 billion – occupying multiple adjectives. Other concurrent events of the year of her birth, and of her lifetime, are perhaps too many to fully know….