Firelei Báez
Firelei Báez's visually striking work reconfigures subject matter and images mined from wide-ranging Diaspora narratives, while addressing questions of cultural identity and migration to explore new possibilities for the future. Her fantastical, colourful and intricate paintings, sometimes combined into large-scale sculptural installations, bring together colonial maps overlaid with symbolic visual cues that span from lavish textiles and wall coverings with colonial-era floral motifs to calligraphic patterns, hair textures, feathered headdresses and beaded jewellery. Often featuring strong female protagonists, her works incorporate the visual languages of Caribbean mythology and histories alongside those of science fiction and fantasy to envision identities as unfixed and inherited stories as perpetually-evolving toward new, imagined worlds and states of being.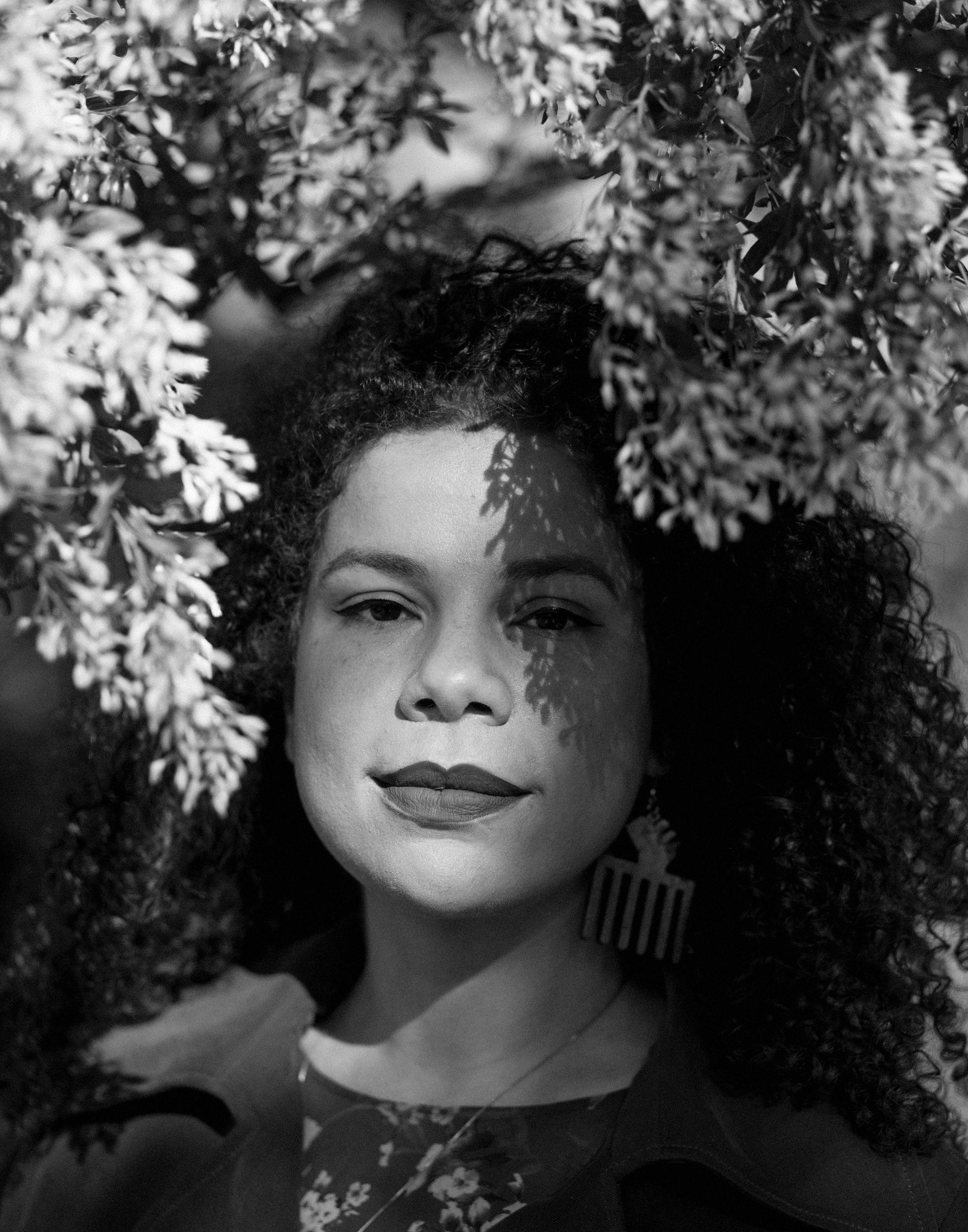 Credit: Firelei Baez. Photo: Lia Clay
Artes Mundi 9 Exhibition
For Artes Mundi 9 Báez has produced four major new works in 2021. Characteristic of the artist's work, three large-scale paintings, including Untitled (A Map of the British Empire in America) and Untitled (City Incinerator 'B') feature strong female protagonists, visually present through body and ornament. Seen in multiple guises, reflecting the shapeshifting nature of the being, both picture a Ciguapa, an elusive mountain and forest dwelling feminine mythological figure from Dominican folklore.
Untitled (A Map of the British Empire in America) depicts a Ciguapa figure traversing the tumultuous waters of Bermuda Triangle, superimposed onto an archival reproduction of an atlas map published in London in the year 1733. Within the map segment featured in this work, sheet 11 of the composite "A Map of the British Empire in America with the French and Spanish Settlements adjacent thereto," the only land charted in the Atlantic region is the island of Bermuda. Overlaying this gridded chart with gestural, calligraphic strokes of paint, Báez imagines a figure wading confidently into the waters of this mysterious site—which, for the artist, brims with "precarity and possibility." Wonderfully hybrid in its composition, the Ciguapa marches forward and looks backward, gesturing a sentiment of "saudade"—a Brazilian term for the deep emotional state of nostalgic longing for something absent, which involves profound melancholy and also joy.
Other works presented use different grounds Untitled (Marine Hospital) and Untitled (City Incinerator 'B'), show culturally loaded sites from archival reproductions of WPA-commissioned architectural diagrams sourced from "Some Data in Regard to Foundations in New Orleans and Vicinity" from 1937.
For example, in Untitled (Marine Hospital), a carnivalesque protrusion of feathers overlays a 1937 architectural diagram of the United States Marine Hospital in New Orleans. One of many historic infrastructural sites threatened during Hurricane Katrina, the Hospital was once dedicated to caring for injured or sick seamen in the United States Merchant Marines. The building was later converted into a psychiatric hospital, and following Hurricane Katrina, it expanded its mission to include outpatient mental health care for a broader set of adults. For Báez, this underlying diagram recalls the form of a mask (possibly a Dogon mask), which she relates conceptually to the act of looking outward and back inward to negotiate an understanding of self identity. Onto this framework, she has overlaid a mass of feathers that draw reference to Mardi Gras, and double-edged Southern exuberance. For the artist, these feathers act as visual cues signal posturing, camouflaging, and the adapting of performative visual languages in efforts to negotiate and represent an authentic cultural self.
Similarly, the large-scale cluster of 81 images, the soft afternoon air as you hold us all in a single death (To breathe full and Free: a declaration, a re-visioning, a correction) incorporates various grounds drawn from historic maps and diagrams from colonial periods including some that describe Cardiff, its port and the mechanisms of historical trade. Here Báez draws on recurring visual motifs from her typical set of referents calling on colonial era patterns and ornament alongside more contemporary images based on protest such as burning tyres. Combined they speak to a continuing legacy of past histories experienced within the Caribbean and beyond.
---
Image Gallery
Please click images to enlarge
Biography
Firelei Báez (b 1981, Dominican Republic; lives and works in New York) has had solo exhibitions at the ICA Watershed, Boston; the Mennello Museum of Art, Orlando; Witte de With Center for Contemporary Art, Rotterdam; and the Modern Window at the Museum of Modern Art, New York. Her major 2015 solo exhibition 'Bloodlines' was organised by the Pérez Art Museum Miami and travelled to the Andy Warhol Museum in Pittsburgh. Báez was featured in the 10th Berlin Biennale in 2018 and was shortlisted in 2017 for Pinchuk Art Foundation's Future Generation Art Prize presentation at the 57th Venice Biennale. She was awarded the Herb Alpert Award in the Arts in 2020 and in 2019 was the recipient of the Soros Arts Fellowship; the Smithsonian Artist Research Fellowship; and the United States Artists Fellowship. Firelei Báez is represented by James Cohan, New York.