Prabhakar Pachpute
Prabhakar Pachpute's practice reflects on the working conditions, relentless excavation, unequal social development and land politics rooted in his home state Chandrapur, known as 'the city of black gold'. Coming from a family of three generations of mine workers, his meticulous drawings, animations and use of charcoal have a direct connection to his subject matter and familial roots. Frequently drawing directly onto walls, Pachpute's use of surrealist motifs create spectacular mural installations and immersive environments of imagined landscapes and hybrid figures that critically address issues of labour, exploitation and subsuming of the individual into the collective. Moving between the personal and the global, Pachpute speaks to a complexity of historical transformations on an economic, societal and environmental stage.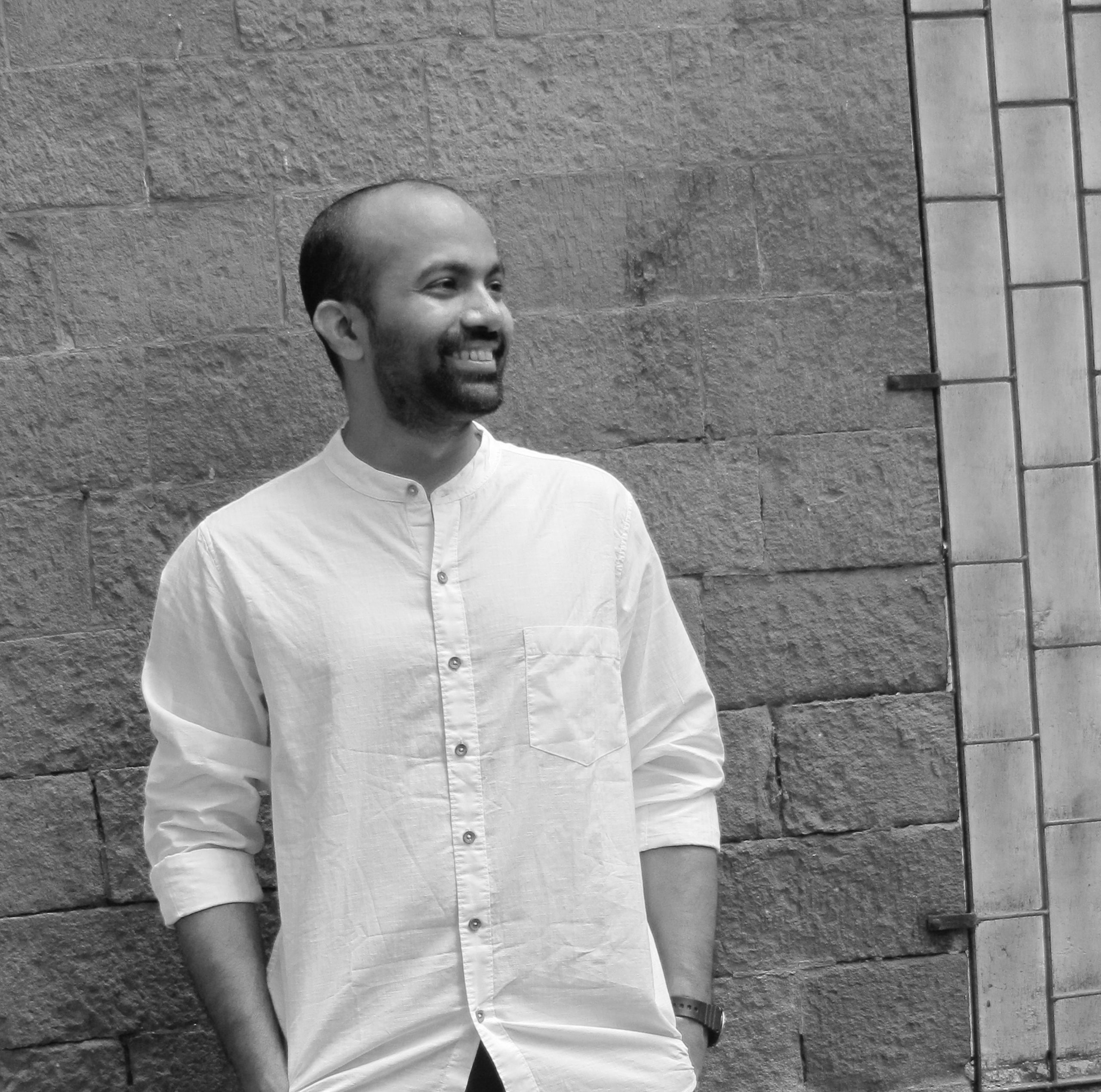 Credit: Credit: Prabhakar Pachpute. Photo (C) Sachin Bonde
Artes Mundi 9 Exhibition
For Artes Mundi 9, Pachpute's new installation is in part informed by a period of research he undertook at the South Wales Miners Library in Swansea. He was struck by the connections of working class labour and symbols of collective unity between the different mining traditions in India and Wales. Despite the differing context, for Pachpute there is commonality in how individuals, communities and societies are impacted when the economy evolves, policies change and land-use transforms or is even abandoned, and in the performative ways seen during the act of protesting.
The gallery walls are covered in a charcoal wash which combines with a series of large-scale canvas banners to create an over-worldly environment. Hanging centrally and framed between the architectural columns of the room, the draped canvas, A march against the lie (IA) pictures a clenched fist rising from a topography of soil, heaped on the ground, a symbol at once of protest and solidarity. As such this work is typical of Pachpute's practice involving iconography that moves between the personal and the global, from solidarity and collective union to despoiled landscapes and fragmented individuals.
Other works on adjacent walls such as The close observer and Rattling knot similarly depict hybrid figures within almost apocalyptic landscapes, industry and toil continually grinding away and surrounding them. These two banner works, presented side by side, are extended on to the walls of the gallery itself. Related to these large-scale works, a cluster of small works on paper, Museum Menageries, picture human worker and machine hybrids, through which Pachpute speaks to the ongoing complexity of historical transformations on an economic, societal and environmental stage, surreal conflations of engineering, humans and animals performing repetitive and debased labour.
---
Image Gallery
Please click images to enlarge
Biography
Prabhakar Pachpute (b 1986, India; lives and works in Pune) has had solo shows at Jameel Arts Centre, Dubai; National Gallery of Modern Art, Mumbai; Asilo, Via Porpora, Milan; and The Glasgow School of Art as part of Glasgow International in 2019. He has also participated in group exhibitions at Van Abbemuseum, Eindhoven; Kadist Art Foundation, Paris; MACBA, Barcelona and was part of the 31st São Paulo Biennial, 5th Fukuoka Asian Art Triennale, 14th Istanbul Biennial, 8th Asia Pacific Triennial, Brisbane; Dhaka Art Summit, 2nd Yinchuan Biennale and the 4th Kochi Muziris Biennale. Prabhakar Pachpute is represented by Experimenter Gallery, Kolkata.