Artes Mundi 10
20 0ctober 2023 - 25 February 2024
Chapter
Glynn Vivian Art Gallery
Mostyn
National Museum Cardiff
Oriel Davies Gallery
Artes Mundi 10, Presenting Partner: Bagri Foundation, will prove a watershed moment for Artes Mundi as we simultaneously celebrate the legacies of the past twenty years working with some of the most exceptional artistic voices of recent times while looking ahead to ensuring we remain relevant for the next twenty years.
To mark this 20th anniversary, the AM10 exhibition will for the first time be presented across Wales at five nationwide venues, National Museum Cardiff and Chapter in Cardiff; Glynn Vivian Art Gallery in Swansea, Oriel Davies Gallery in Newtown and Mostyn in Llandudno, providing even greater opportunities for national and international audiences to experience the show. The AM10 exhibition will comprise significant solo presentations of new and existing work of seven of the world's most important international contemporary artists.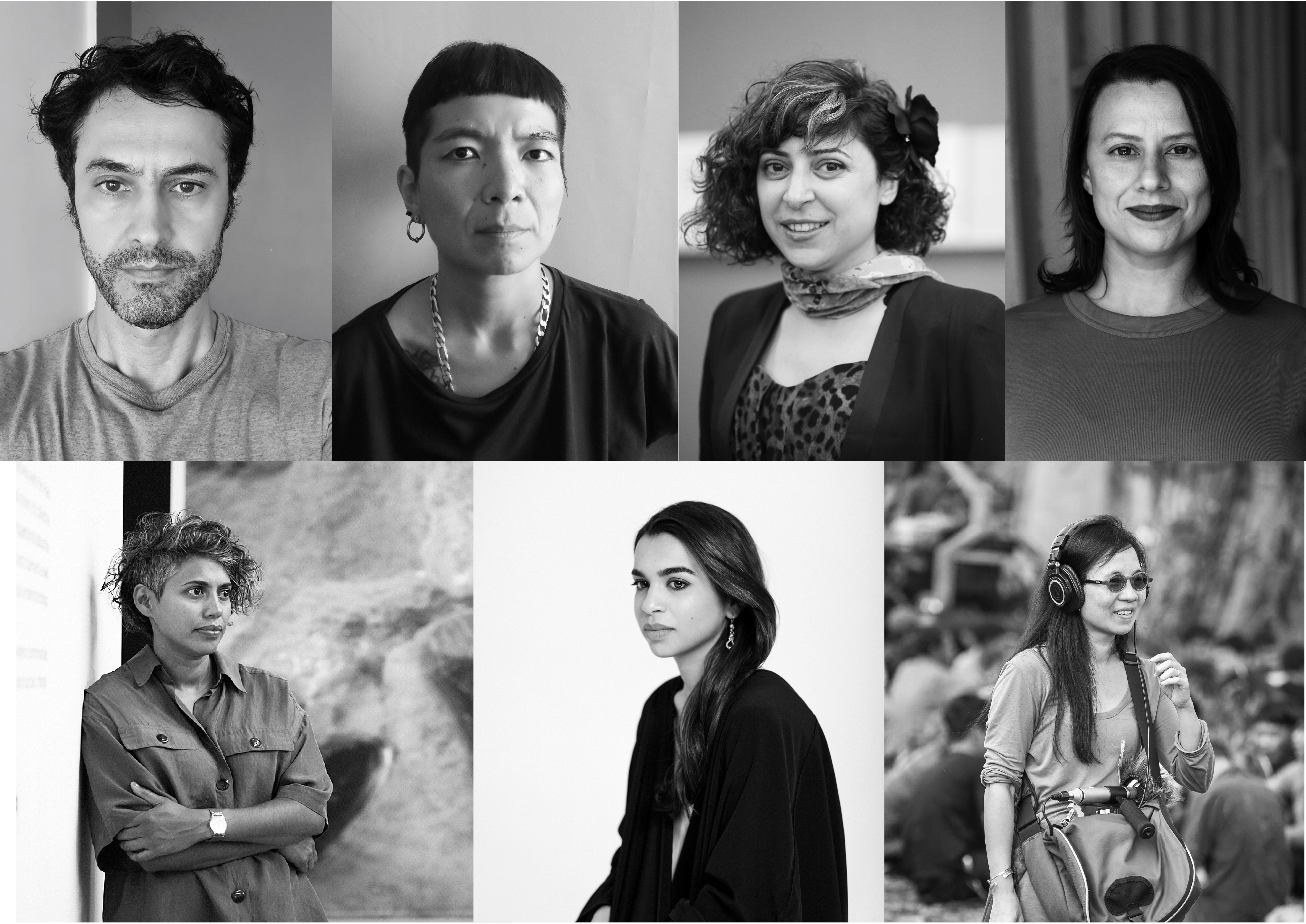 Credit: Artes Mundi 10 shortlisted artists. Top row from left to right: Rushdi Anwar, Naomi Rincón Gallardo, Mounira Al Solh, Carolina Caycedo; Bottom row from left to right: Taloi Havini, Alia Farid, Nguyễn Trinh Thi
Across Wales, individual presentations by each artist will collectively examine ideas concerning connections to land, contested territories and histories, the questioning of nationhood and its environmental impact, and of how these ideas challenge preconceived notions of identity and belonging.
Alongside this, our Public Programme will provide distinctive, creative and imaginative opportunities for all regardless of age, experience or background. Centring creativity and culture within the broader context of everyday life, is key to the core proposition of Artes Mundi. The extensive suite of free events and activities will be delivered by a dedicated team both online and in person, and will broadly comprise:
Talks: 'At the table with …' online in-conversation panel discussions with each artist and other high-profile international artists, curators, writers and historians
360 degree interactive digital tours of artists' exhibitions alongside photographic documentation at all five venues
Public, expert and community led exhibition tours creating access for all, especially including Deaf and disabled audiences through BSL, Audio Description, close captioning and sub-titling
Podcasts comprising audio recordings of each panel talk available on our website and those of our partner venues, plus global platforms
Creative writing commissions published in our online journal, including original Welsh content
Dance and music events hosted across Wales that connect and respond to the exhibition
A Schools programme, family workshops and other accessibility led events and activities
A Mentorship programme for Welsh artists involving biennial artists, curators, historians and thinkers
Jurors
Zoe Butt – Curator and writer and was Artistic Director of the Factory Contemporary Arts Centre, Ho Chi Minh City (2009-2021). She is a MoMA International Curatorial Fellow; a member of the Asia Society's 'Asia 21' initiative; and member of the Asian Art Council, Solomon R. Guggenheim Museum.
Katya García-Antón – Director and chief curator of the Office for Contemporary Art Norway (OCA), where she has held the post since 2014. In August 2022 she started as director of the Northern Norway Art Museum (NNKM).
Wanda Nanibush – Anishinaabe-kwe image and word warrior, curator and community organiser from Beausoleil First Nation. Currently Nanibush is the inaugural Curator of Indigenous Art and co-head of the Indigenous & Canadian Art Department at Art Gallery of Ontario (AGO), Toronto.
Gabi Ngcobo – Artist, curator and educator living in Johannesburg, South Africa. Since the early 2000s Ngcobo has been engaged in collaborative artistic, curatorial, and educational projects in South Africa and on an international scope. Ngcobo is Curatorial Director at the Javett-UP.
Prize
Work by each artist will feature in the biennial exhibition with the winner of the prestigious £40,000 Artes Mundi Prize announced during the exhibition run.
Past editions have seen Artes Mundi work with artists at crucial stages of their careers, often being their first introduction to UK audiences, with many now established figures on the world stage, including Dineo Seshee Bopape, Prabhakar Pachpute, Theaster Gates, John Akomfrah, Teresa Margolles and Xu Bing. 
Funding Partners


Arts Partners


Gallery Partners


Media Partners